Pumpkin Design Competition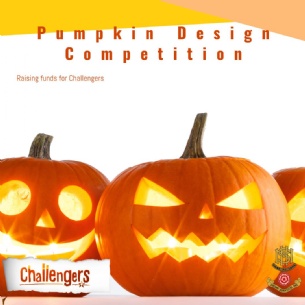 Pumpkin Drawing & Carving Competition
Create a pumpkin carving design! | Sketch it, colour it and submit it!*
Carve a pumpkin! | Imagine, carve, create!

* Entries must be hand-drawn and not computer-generated. *
Sixth Form student, Deputy Head-boy and Young Wellbeing Ambassador, Sam Matten, launches his first half-term fundraising competition.
Sam volunteers for Challengers, a charity that aims to provide truly inclusive, fun and safe places where all disabled children and young people aged up to 18 years can spend time with their friends. Sam hopes to raise funds through this competition in support of their #orangeoctober campaign.
See below for full details on how to enter.
G O O D L U C K!