Easter approaches - March 2019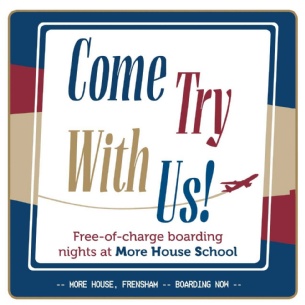 Ofsted comes and goes - Outstanding flows!
Another term almost completed and it has been another full one in boarding. With over 100 boarders to keep the staff occupied, it is always vibrant, never dull and sometimes hectic. Our recent annual boarding inspection reflected the Outstanding care and additional provision we are able to offer our boarders. We feel privileged to have those extra hours and opportunities to support them, and many of them comment about how much extra 'quality time' they have to study, practice, get active or just chat to their friends and the boarding staff, that they wouldn't always get on every weekday evening at home.
We are extending an invitation for more of our current day boys to 'Come try with me' in boarding for a night and our three initial offer nights are almost booked up. Please get in touch if you are interested in grabbing one of the remaining places.
This term the boys have found time outside of their evening studies to go to Laser Quest, Cinema trips, a Championship football match, food trips as well as the myriad of onsite activities, so roundly praised by the inspectors.
We are looking forward to next term where two big events will be the swimming pool being reopened for the 'Summer season' and the rescheduled Boarders Talent Show which will happens on Thursday 9th May when we return after Easter. We are also delighted to be launching our new range of personalised Boarders' items including laundry bags, towels and wash bags, all with your son's name on and the distinctive More House colours & logos. More details will be available after Easter.