Frensham school's musical collaboration with nationally renowned choir and Irish playwright. ​​​​​​​​​​​​​​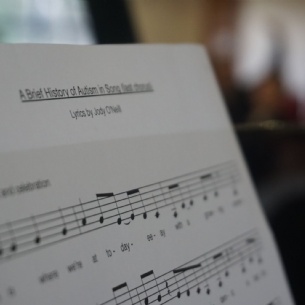 What I (Don't) Know About Autism
Never a department to shy away from a challenge, More House School's music department were this week delighted to welcome Jill Bradford, Choirmaster of the Autistic Adult Choir, to record the final chorus of new show What I (Don't) Know About Autism to be premiered in Dublin's National Theatre from Saturday 1st January.
The show, written by Irish playwright and actor, Jody O'Neill, tells the story of love and acceptance and takes the audience on a highly theatrical journey mixing narrative, song and dance to explore the often-misunderstood subject matter of Autism. The play looks to celebrate the autistic identify whilst offering a deeper insight and understanding to non-autistic audiences.
More House School's Director of Music, Mark Place said "The Music Department were contacted by the Autistic Adult Choir to ask if we would like to record a final chorus for this new show and could we record the following day. We duly took on the challenge, quickly assembling a group of keen singers for the following afternoon. Jill took them through a series of warm-ups and I taught them the tune. Less than an hour later, and after remarkably few takes, the job was done! The audio was exported from the studio computer and sent to Dublin where they have added it to the final click track. I have heard back from the production team that they are very pleased with our contribution and I look forward to receiving a clip of the show where our boys feature."
The show is already sold out for its 10-day run, with hopes that it will become a touring production in the future. Mark adds "For more house students to be invited to collaborate with Jill on such an exciting, live project is invaluable in enhancing their learning experience. I hope the play is a huge success for everyone involved and that our students' voices will be heard far and wide!"