When Harry met Ronnie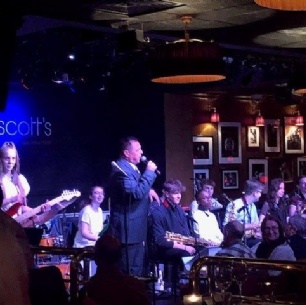 Music student Harry becomes fourth More House student to play Ronnie Scott's Jazz Club
On Sunday 3rd June, our very own Harry Burnell appeared on the stage of the prestigious Ronnie Scott's Jazz Club in London, now being the fourth MHS student to perform there!
Following in the footsteps of Joseph O'Hare, Angus Lacey, Henry Hanssen and Ella Fitzgerald (the latter being non-MHS…). Harry entertained a packed club by playing 1st Tenor Sax in the young Big Band to Blue Train, and Moten Swing. Mark Armstrong, trumpeter in the Ronnie Scott's resident Big Band, who performed a full set after Harry's band, conducted the young musicians through their brief set before referring to the band members as the Ronnie Scott's musicians of the future.
Congratulations to Harry and we look forward to the next MHS musician appearing there soon!
Mr Place (who is not at all jealous that he has never performed on that stage…)