UK Retreat for Young People | INWARD BOUND MINDFULNESS EDUCATION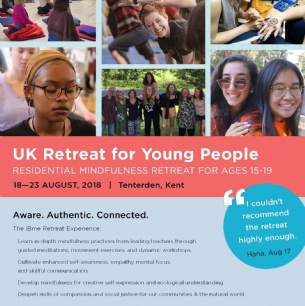 AWARE . AUTHENTIC . CONNECTED
Residential Mindfulness Retreat for ages 15-19
18-23 August 2018 | Tenterden, Kent
Come explore mindfulness through formal meditation periods and relational mindfulness activities on the 2018 iBme UK Retreat for Young People. This retreat will be held at Kench Hill Centre, Appledore Road, Tenterden, Kent, TN30 7DG
The iBme Retreat Experience:
Learn in-depth mindfulness practices from leading teachers through guided meditations, movement exercises and dynamic workshops.
Cultivate enhanced self-awareness, empathy and mental focus and skillful communication.
Develop mindfulness for creative self-expression and ecological understanding.
Deepen skills of compassion and social justice for our communities and the natural world.
iBme welcomes and celebrates human diversity in all its forms regardless of race, colour, ethnicity, sex, sexual orientation, gender, identity, personal appearance, or religious/spiritual affiliation.