Lake Garda update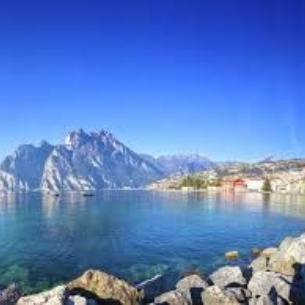 Our musical maestros continue to wow the crowds!
27.08.18
This morning, just before opening, saw us beating down the door of Gardaland theme park
with our platoon of hardened musical Spartans. With seven hours to test our courage....and stomachs....could we do it? Of course we could! With rides like the Tornado, Oblivion, Rapture we felt obliged to give the new Peppa Pig attractions a miss and get stuck in with the hard stuff. It was great fun.
After this we went to a local restaurant where we were greeted and treated amazingly. Each pizza was the size of the entire saxophone section so, of course, the lads ate the lot.

We then headed to Lazise
for our evening concert. We thought Lady Luck was on our side as Mr Place's back was the target of a local bird. Unfortunately not long after starting, it started to rain. We pushed on through but the rain just got heavier so we had to abandon play. What we did play was enjoyed by many and, although unfortunate, it has not dampened spirits.

Heading back to the hotel for some packing and an earlier night. See you all soon.
Mr B.
---
26.06.18
So...
We set off for Verona after a hearty breakfast. Once there we went into the Arena and had a look around. Currently setting up for an opera festival so the stage is being set up with all the props and staging being craned in. Exciting!

Then we went for a walk and had some free time in Verona and had lunch.

After this we met up with our faithful drivers and went to Sirmione and went round Scaligero Castle which had the most stunning views. There was some free time to get an ice cream...which some did....one was as tall as a Yr.4! Evidence to follow on our return...!
Back to the hotel for a swim, shower and something to eat and then changed and back onto the bus. Our concert this evening was in Bella Italia Camping.


Second concert done. Went really well. Even better than the previous one. Great crowd and a lovely atmosphere. Lots of lovely comments from many and the venue asked us back next year!
Now heading back to the hotel for a late Dixie Band gig and bed in preparation for Italy's biggest theme park tomorrow. (Sick bags packed!).

Boys have been great and no No.2's have been done in the bus thus far.

Good times.

Cheers,

Craig
---
25.06.18
After breakfast we set off to Monte Baldo in Malcesine. There we took two cable cars up to the top, the latter span round as well! Then we went for a 20minute walk and took in the glorious views of the entire lake but it was cloudy. We enjoyed what we could see and also watched the paragliding nutters hurling themselves off the side of the mountain.

We then headed back down into the town and caught the ferry to Limone sup Garda. There some free time is being had before we catch the ferry back to meet the bus and freshen up before our first performance this evening in Brenzone in our swanky tour tops.
A lovely day thus far.
#LoveMusicTours
Photo courtesy of Thomas Cross
---
Saturday 23rd June:
The Music Trip to Lake Garda was first out of the blocks leaving MHS on Saturday morning with Mr Place and Mr Burnett et al. The group arrived safely at their beautiful hotel at 3pm (BST) on Sunday. The group were straight into the pool under the balmy Italian sunshine.