Glorious Snowdonia!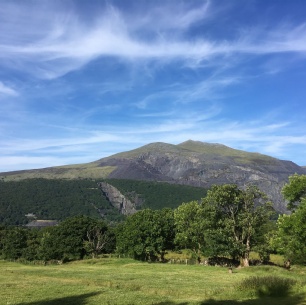 Slate, Snowdonia and so much sunshine!
28.06.18 - Final day
Due to the heat it was decided to split into two smaller groups. Team A led by The 2 Mrs C's were taking the lower walk around the main lake of Llanberis Lyn Padarn. Having left slightly after team B we began our route travelling anti clockwise around the lake. After the first twenty minutes we reached the Welsh Slate museum two minutes before opening. This was a free museum and we weren't sure what to expect but our timing was perfect throughout and we ended up seeing a slate cutting demonstration and a blacksmith demonstration. Both were really interesting and enjoyed by all. After an hour here we found our way to the edge of the lake where we managed to dip our ankles into the pond to cool our feet and had an early lunch.
After lunch we embarked on the remaining part of the route which involved a couple of steep climbs up to our summit where we could look back across the lake and the village of Llanberis and beyond. We completed our three hour circular route in temperatures of 28 degrees finishing off with a quick drink and a sit down by the waters edge scouting out locations for our last evening together.
Meanwhile team B ventured to Snowdonia! Jack reports- the mountain walk up Snowdonia was 'definitely my favourite day of the residential! We watched a lamb being reunited with it mum after having some trouble with some barbed wire. Walked up some steep inclines, had to pay to use the toilet A view of the peak showed it packed with people who had mainly taken the train but when we reached the summit the feeling inside was so overwhelming and amazing that proud wasn't enough to describe it! The view was extraordinary. After a much easier walk down we were home but the best thing about it was that it was exercise and great fun at the same time and Mr Webb was a great instructor!!'
---
27.06.18
This group are having so much fun!
Two locations were covered either side of our accommodation. Velocity first the fastest Zipwire in Europe. Scary for some exhilarating for others and completed by all!
Then on to trampolining underground on large nets. Nothing like Gravity Force!!
Then straight out to get kitted up for Titan the longest Zipwire in Europe. Three stations Alpha, Brava and Charlie. Each shorter than the last but steeper and faster. Well managed and great instructors
Another great day had by all!
---
---
26.06.18
Caving
The guys were kitted out with wellies and harnesses and the loaded onto the mini buses heading for the base of the mine. After a drive and 30 minute walk uphill they entered...
A long watery path with low ceilings led them to a lake where now equipped with aids they rowed across to the other side. On arrival they clipped on their carabiners and traversed a large hole 'clipped off' and then on to a zip wire that then flew across the hole! A climb up a steepish incline and an abseil down the other side.
Time for lunch before walking up a waterfall and through some tunnels leading to the escape root, an old air shaft! This final ascent had large staples in the slate as footholds making for an easier climb. The instructors were keen to rectify this by releasing water down the shaft encouraged by the boys to soak the teachers!!!
Great Day had by all.
---
25.06.18
The only words back from Mr Pennell are 'not too shabby a first night!' Safe to say boys and staff alike are enjoying the beginnings of their adventuring!