Coastal Beauty from our Sailing Group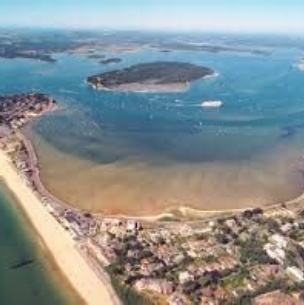 We are sailing, we are sailing, home again, cross the sea.
Last day fun...
The last full day of glorious big blue skies and open water for our Waterboys, time to squeeze in a final sail and to test out a raft they had built.
Until next year Rockley Point, you have been epic!
Over and out,
Mr Stewart and Miss Collington
---
---
Wednesday 27th June | Day 3
Once upon a time, there were eight More House boys and two members of staff in the land of Poole.
After getting up to the smell of sausages, beans and toast, they all stomped down to the water for a full action packed day of sailing.

They were off soaring over the water like ducks on a pond... well almost. Joseph was most consistent at capturing the wind today expertly following the instructors tips and racing ahead of the pack.
There were a few capsizing most famously from Robert whilst being towed back to port... Quote: 'I was thinking yeah, that's why I capsized'
Such a fab day of sailing with lots learnt and fun had by all. Staff included... who they allowed to drive a speed boat and Miss Collington didn't even crash!
Time for the evening activity....CRABBING. Winner was Filip for catching eleven crabs!
Best quote yet from Henry "what if the crabs are vegetarians... could we get some halloumi?"
Tuesday 26th June | Day 2
The sun was out, the sea was warm, what would day two entail? A quick stroll down to the beach and on to the water for some wind surfing. Some fabulous attempts and one or two near misses but all in in all a great morning. King of the waves on this occasion goes to Ivan with some simply stunning skills.
Monday 25th June | Day 1
Who needs to be in Lake Garda, Poland or Wales, when you have sun, sea and sand in Poole? It is going to be a week of great British summer weather.
After arriving around midday and having lunch, the wet kit was on and it was time to sail the pirate ships past the Special Boat Service HQ.... fortunately we all made it back.
We are about to start the Egg challenge after a lovely dinner of meatballs and pasta. What could the challenge be?
Mr. Stewart and Miss. Collington OUT
---
Back to shore for a spot of lunch and then back to the water for our afternoon activity of kayaking and paddle boarding. Fun and games were had by all and Mr Stewart showed his paddling prowess... he's within the top 50 paddle boarders in the UK, don't you know! Henry was quick to mention he was surprised there were 50 paddle boarders in the UK! We were just pleased Henry took time away from his budding Bromance with our instructor Tom to comment (see below).
A fun, sun filled day rounded off with a very aesthetically pleasing belly flop competition. We hope you're all enjoying your activities week as much as we are!
Mr Stewart and Miss Collington out!