Book of the Month | May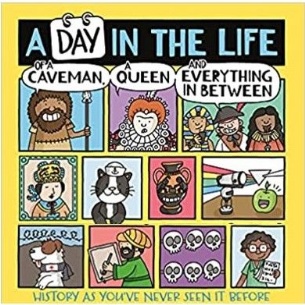 A Day In The Life...of a Caveman, a Queen, and Everything In Between
Like 'Corpse Talk' from 'The Phoenix' comic? This is laugh out loud history as you've never seen it before.
Read the day in the life of a severed head from the French Revolution; any last words before the guillotine falls? Just not too much off the back and sides please! Or what about the secret diary of a woolly mammoth; he's lost a molar and it's a long as your ruler!
This hilarious non fiction graphic novel is packed with comic strips, maps, secret diaries, newsflashes and cartoons.
Also available is 'A Day In The Life...of a Poo, a Gnu, and You' - the science equivalent about the human body and the world around us.