Neurodiversity In Fiction...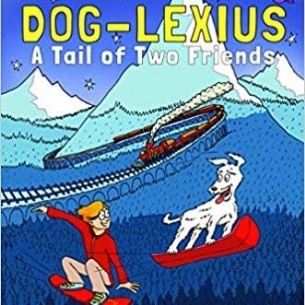 Dog-Lexius
by Susan Stewart
'Dog-Lexius...A Tail of Two Friends' is a children's adventure fantasy story mixed with a sense of realism surrounding the world of dyslexia. Whilst being fun for children, the book carries a message for parents whose child may be facing daily difficulties, especially during the school da regarding reading and writing. Illustrated and using dyslexia-friendly fonts, Dog-Lexius is written for 8-11 year olds but is open to a much wider readership.
The book tells the story of Sam, a nine-year-old boy who loves playing computer games. Sam has a great imagination and would dearly love to own a dog. Sam has fallen behind greatly at school, with his teachers rather unsympathetic towards his struggles or his Mum's self-diagnosis.
One evening Sam falls asleep at his computer whilst creating a space hound to play with. Upon the stroke of midnight, the playful pooch magically comes to life, inviting him on a purposeful adventure into Outer Space and a mysterious Goblin Planet filled with unruly Letters. It's adventure that will change Sam's outlook and change his life.
With Dog-Lexius, the author's aim is to help raise awareness of dyslexia, especially within schools, and to reach those who need help and understanding. Susan says: 'I have a wonderful dyslexic son who has spent years keeping me on my toes. It was he who gave me the insight to write Dog-Lexius, which is really the story of a young boy and his mum, struggling to be heard. I believe the story will resonate with so many children and their families. I also believe it comforts and inspires children to see themselves in the stories they read.'