Family Games Night - Friday 3rd March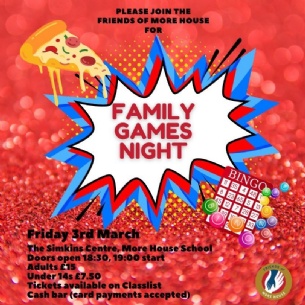 The Friends of More House invite you to join us at a Family Games Night on Friday 3rd March.
The Friends have been busy making plans for our first Family Games Night. Taking place on Friday 3rd March, it will be a fun and relaxed opportunity for MHS parents, pupils and their siblings to socialise. We will be playing bingo and a mystery assortment of silly games. If there is anyone in particular you would like to sit with, please let us know when booking your tickets. We will do our best to accommodate your preferences. Tables seat eight. Pizza is included in the ticket price (£15 for adults and £7.50 for under fourteens. There will be a cash bar.