Christmas Competition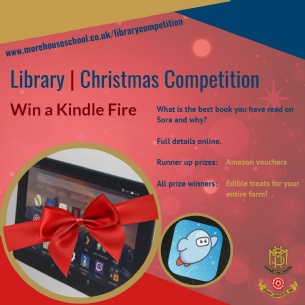 Win a Kindle Fire HD 8
What is the best book you have read on Sora and why?
Present your reasons in ANY format you wish: do a book review, make a film, paint a picture, compose a poem, song or rap, demo an experiment related to the book's topic, write a sequel, make a presentation, write or film a speech, invent an interview with the author or a character from the book either written or filmed...
We are looking for the most original choice of book: It may not necessarily be the most popular. Maybe the book is connected to your favourite subject at school, maybe it's written by someone you admire, maybe it helped you through a difficult time, maybe it inspired you to do something amazing....we are looking for the most original way of explaining your answer.
The winner will have put their best effort, creativity, time and care into their entry. They won't necessarily have written the most words, or produced the longest film, presentation or speech etc.
It must be a book from the school Sora platform. You should have read or listened to the book and this should come across in your entry.
Please submit your entries either in person or via email to the school librarians by Monday 30th November. Winner to be announced at the end of term.
Overall Prize: Amazon Kindle Fire HD 8
Runner Up Prizes in each age group: Amazon Voucher
All Prize Winners: End of term treats for your entire form!
Good Luck!