Book of the Month | March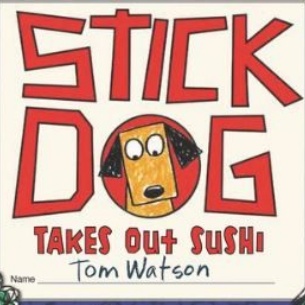 Stick Dog Takes Out Sushi by Tom Watson
Perfect for fans of Big Nate, Diary of a Wimpy Kid, and the previous Stick Dog books, Tom Watson's hilarious series continues, and Stick Dog is in the mood for takeout!
When Stick Dog and his crew unknowingly discover chopsticks, their taste buds lead them to a lakeside sushi restaurant. They see the sushi. They smell the sushi. But how are they going to get the sushi?
Several things stand in Stick Dog's way. They include a squirrel eating a barbecue potato chip, a runaway canoe, and a little female human. Stick Dog must navigate around each of these obstacles if he's ever going to get some sushi for his drooling friends.
It's another wacky food-snatching mission. If Stick Dog fails, Mutt, Karen, Stripes, and Poo-Poo will go to bed with empty stomachs. If he succeeds, it's sushi for everyone!