Make Your Own Magic...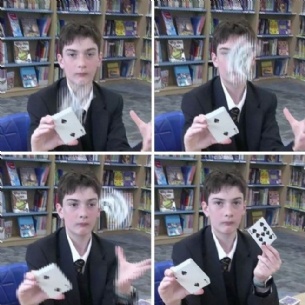 'Magic is fantastic! It makes me happy to amaze people...'
Never without his trusty pack of cards in his pocket, Christopher performed one of his card tricks recently in the library and it was so professional, we needed to share his skills with you. Even with short sleeves on, his 'slight of hand' was invisible. Here he is showing a friend one of his 'pocket tricks' but where's the ten of spades gone?
Our budding magician recently appeared in a May issue of 'The Week Junior' talking about his love of magic: 'Joining a magic club is really fun and has helped me meet people with the same interests. I try to practise as much as possible. Even if there isn't much time, just five minutes can help. One of my favourite tricks uses a cup and ball. There are so many ways that it can be done.'
There are a range of magic books in the library available to loan, from basic tricks for beginner's to more in depth info for the pros. Christopher likes 'The Royal Road to Magic' which is full of QR codes of trick demos. We also have packs of cards for you to practice with...
...and you might just find one of our resident 'magicians' in action!