More and More - A History of More House School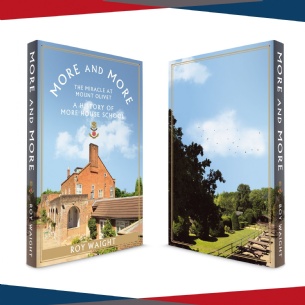 Pre-order here!
Celebrate the 80th anniversary of More House with this beautifully produced history of the school.
March 2019 will see the publication of More and More - The Miracle at Mount Olivet: A History of More House School.
Not many people know the extraordinary story of Reginald Gard'ner, buried in the Farnham Cemetery, as Brother Joseph, he found a religious order, "The Servants of Christ the King". In 1931, he moved to Moons HIll in Frensham and established the Mount Olivet Monastery pilgrimage centre, while at the same time establishing an institution for the education of young men. In an imaginative act of improbable boldness, he also created the 'Frensham Circus', a novel way of stimulating pride amongst his boys that was the only circus of its kind in the world. When this institution was closed in 1939, Brother Joseph set up the St Thomas More School for boys of normal intelligence but learning difficulties, which prospers today as More House School.
Written by renowned local historian Roy Waight, More and More traces the school's story from its origins into what it has become today, and establishes the astonishing history of a remarkable school.
More and More wil be available to buy for £10.00 +£2.50P&P
(if you are unable to
collect) through pre-ordering and then afterwards only through the school. All proceeds from the sale of this book will go to the
Friends of More House
.
As a thank you for pre-ordering the book and funding its initial print run, your name will be printed in the book as a Supporter (one name or family name per each book purchased.) Simply fill out the form below and make payment online.
PLEASE NOTE: the pre-order cut off date for having your name printed in the book is January 31st 2019