New Books Alert!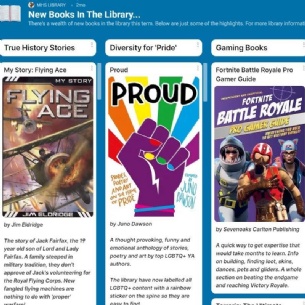 Check out our new books, all sourced with a desire to inform, inspire and bring pleasure through reading.
'True History Stories' is one of our smaller collections but particular popular with many boys who like the bridge between fiction and non-fiction. Written in the style of a fiction book they are based on the bare bones of a factual story and often include 'fact pages' to set the scene.
In the run-up to June which is 'Pride Month' we have been busy 'rainbow labelling' all our LGBTQ+ themed fiction books and purchasing related stock to increase our Diversity section of non-fiction. More to come on that after half-term...
Finally, our fastest growing collection is Neurodiversity. With supportive research and recommendations from a keen sixth form reader, we have been investing in a broad range of fiction and non-fiction books for all age ranges. In fact it's getting so extensive, it's getting its own entire new shelving unit in September!
Please click here for some of the highlights of our latest stock, or come to the library to check them out...literally!