School Stars | Runner Up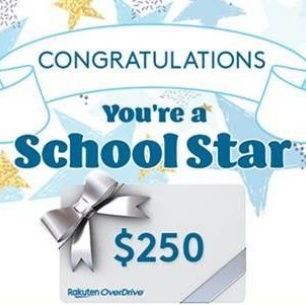 The librarians were delighted to find out over the Easter break that the More House Library had come second in the Rakuten Overdrive School Stars competition in the 'most creative' category. The prize of $250 credit towards more online stock is most welcome and we look forward to spending it!
Our account manager based in Cleveland Ohio was also thrilled: 'Thank you so much for sharing your creative idea with OverDrive! It was truly humbling to read through all of the submissions received. Thank you for trusting us to partner with you in encouraging literacy and spreading reading happiness. I am so proud of all the hard work that you've put into revamping your school's library and creating a culture of reading. When I read your submission, it brought tears to my eyes. What an incredible gift for you to be able to help these boys see themselves in a new, positive light! My colleague, Christina Samek, who coordinated the School Stars promotion, also started crying when she reviewed your entry. You've helped us feel that we've played a small part in the good work that you do every day. Thank you!'
Rakuten Overdrive is the US company that provide our ebook/audio book platform 'Sora' and is the biggest of its kind worldwide with school and public library platforms in over 70 countries. Winners in each category were all from the US, their biggest market, but runners up including ourselves, also came from Italy, the US and Japan.
If you'd like to find out more, our entry is below, and is a bit like a history of the new library since opening in October 2017, building up to engaging the boys with online reading on Sora since January this year. For more information on the overall winners, please click here: https://company.overdrive.com/2019/04/11/school-stars-winners-announced/ It's very interesting to read how many of the winners in each category are engaging with social media to interact and promote reading with their students. #nextobjective…More House Library Twitter feed…Watch this space…
Just another little reminder of how to find our ebooks and audio books: Sora is linked to our Reading Cloud home page. There is a big ebook/audio book link at the top, you can't miss it! Sora can also be downloaded as a separate app from the app store direct to pupils' own devices. All the boys need is their standard school username.