Music and History (Old) Boy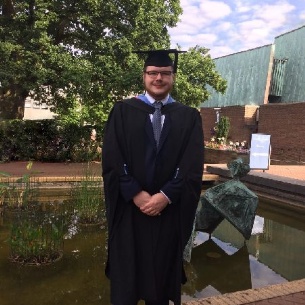 Update from old boy Alex Dudfield, who left MHS in 2013.
History was always one of the most enjoyable subjects I studied at More House, thanks in large part to Miss Gleghorn. I was always keen on studying the great empires of the 18th and 19th centuries. Yet, whilst at The University of Southampton I undertook contemporary modules on American post-Second World War foreign policy, the Troubles, the ethics of war and the War on Terror, which resulted in me realising that history can be so vital and relevant to the present.
This interest in the contemporary world and understanding the links of the recent past to current issues was a key reason I chose to undertake an MSc in International Risk and Security. But moreover, I felt like my potential had not been reached yet. So I sought out the challenge of doing not just a masters, but a multidisciplinary masters focused on 'outside the box' solutions to contemporary security issues. I like to think my dyslexic mind enabled me to incorporate this fluid approach into my studies on security and be able to jump across six different academic disciplines at masters level.
I'd also like to expand upon music, as More House's music department gave me the confidence I had lacked before and allowed for me to have so many amazing experiences at college and university.
Most of my spare time at university was spent in various ensembles, such as the symphonic wind orchestra, brass band and symphony orchestra. I've played many of the great symphonies, such as Shostakovitch 5, Mahler 1 and Tchaikovsky 4, travelled across Europe and the UK on tours, visiting incredible cities like Budapest, Berlin and Prague, I've competed in national banding competitions, like Unibrass, and helped out local schools, hospitals and youth groups by taking part in outreach projects. More importantly these musical societies provided me with a large friendship group. I also helped lead some of these societies, having being both Vice-President and Social Secretary of the Wind Orchestra. I even wrote their constitution amongst other things.
All of this would have not been possible without the Music Department at More House. I am eternally grateful to Mr Place, Mr Burnett, Mrs Stiff, Mr Bloomfield as well as Mr Huggett for creating such a strong department which helps students overcome challenges and strive. The confidence music gave me allowed me to achieve top marks whilst presenting at university and make strong arguments during seminars and debates.

This email has ended up rather long, but I felt it was important to acknowledge the impact More House has had on me, both in the past and now as I look towards the next part of my life.
There are so many other staff which played an important role in my younger years who I wish I could thank (shoutout to Mr Faasen for actually getting me into a sport and Mr Luff for making geography enjoyable, as well as my various form tutors and heads of year).
The overarching point I feel like this email has made is that More House is a very unique and special place, and I was incredible fortunate to have studied there and whilst I might not have read English at Oxbridge,
I finished my studies by writing a 15,000 word dissertation at a top 100 international university - something 10 year old me would have not thought possible and most certainly would have not been achievable without More House.
Alexander Dudfield BA Hist, MSc Security