Mr Nicolas Bloomfield, 1958-2020, Teacher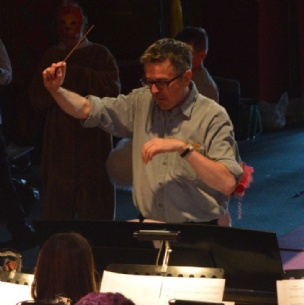 Tuesday, 10th March 2020
It is with great sadness that we announce the news that Mr Bloomfield, long-serving teacher at More House School, has passed away unexpectedly at his home address following illness.
18th March 2020 UPDATE:
Dear MHS school community past and present.
Due to the ongoing Covid-19 situation, the school will be holding a small, school only memorial service for Nic before the end of this week.
We hope, as the situation stabilises later into the year, that a greater school community event can be organised.
You messages of condolences are appreciated at this time and have been shared with those closest to Nic.
We appreciate your understanding at this time.
---
---
Tuesday, 10th March 2020
Dear parents, staff and governors,
It is with great sadness that I share with you the news that Mr Bloomfield, long-serving teacher at More House School, passed away unexpectedly at the weekend.
Joining More House in January 2001, Mr Bloomfield taught History and Music, including A Level Music, at the school for nineteen years, inspiring and fostering a love of those subjects for very many pupils. As a dedicated form-tutor, Mr Bloomfield demonstrated a very strong commitment to the pastoral care of pupils. Mr Bloomfield also delivered individual instrumental-music lessons to many students, teaching piano and flute.
As a student, Nicolas Bloomfield read History at the University of Oxford. At More House School he proved himself an extremely talented and creative teacher. Mr Bloomfield provided piano accompaniment to many More House boys as they performed solos, and for hymns and carols at school services. He was a key member of the jazz-band, accompanying its foreign tours, and will be particularly remembered for writing More House, The Musical, charting the school's extraordinary history, through drama and song and performed during the school's 75th anniversary year. Mr Bloomfield also composed the school song, sung at every Founder's Day, collaborating with colleague Tom Kirkham who composed the lyrics.
This unexpected and tragic news was learned by the school yesterday afternoon, and remains very recent. Early indications suggest Mr Bloomfield suffered a complication relating to a longer-term medical condition, and passed away at his home address in London.
We have put into place arrangements for supporting colleagues and pupils at this very difficult time, drawing on the school's very strong pastoral wellbeing and mental health provisions. The school's normal programme of teaching and extra-curricular activities will continue, but there will always be provision available for pupils and colleagues who welcome additional support. A book of condolence will be opened in the school chapel.
Arrangements are already in place for ensuring Mr Bloomfield's classes, including his A Level Music students and individual instrumental-pupils, continue to receive high-quality teaching and support.
Arrangements are in place to support pupils affected by the news.
For colleagues, the chapel will provide an environment of quiet, prayer and reflection throughout the day.
I ask you to remember Mr Bloomfield, his relatives and close friends, in your thoughts and prayers.
Yours sincerely,
Jonathan Hetherington BA (Hons) MSc (Ed) QTS
Headmaster