Franks Fundraising Zwift for NHS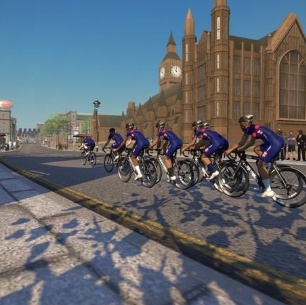 12 hours on the saddle with Mr Clarkson playing catch-up!
On the same day Captain Tom Moore completed his 100th length of his garden, Alex Franks, Year 9, decided he wanted to do his bit to support the NHS. To begin, he had a grand plan to support Geraint Thomas, Tour de France winner 2018 and runner-up in 2019, who had plans of his own to complete three 12-hour shifts to replicate the NHS staff's time at work. Due to social distancing measures, Alex joined Geraint on Zwift, a cycling platform which allows for group rides from the (relative) comfort of your own home. As a result, the Franks family rallied around, preparing food, drink and towels, as well as offering psychological support throughout!
Alex's intention was to complete six hours of Geraint's middle shift (Thursday) from 7.30am-1.30pm. This was split into three separate rides through London and the Surrey Hills.
Alex was able to (virtually) cycle past a number of famous landmarks, including Big Ben and the Houses of Parliament, as well as Buckingham Palace before climbing Box Hill a number of times.
6 hours proved insufficient for the budding cyclist however, as he decided he would persevere through the next shift of two hours followed by the next shift before he found himself completing the 11th and 12th hours. Having cycled approximately 70 kilometres during each consecutive ride, Alex completed a total of around 420! For context, this is roughly two and a half stages of the Tour de France, all in one day. Mr Clarkson thought he would join Alex for one two-hour stint, but actually found himself chasing to keep up. As you may have seen via Facebook, Alex had to do some slowing down, and Mr Clarkson had to do some speeding up, but they did ride side-by-side for a time!
Alex explained, "I am used to riding and racing regularly but the longest I have ridden before was for 4 hours. Riding for 12 hours straight was on another level. I felt pretty good up to 10 hours but the last two hours were a mental and physical battle. My legs were in pain like I had never felt before but I was determined to push through. I even managed a sprint at the end!"
Having surpassed all expectation, Alex has raised nearly £3000 on top of Geraint's £300,000 for the NHS.
To donate, please visit: Alex's Zwift Shift for NHS