Shedding some light on construction!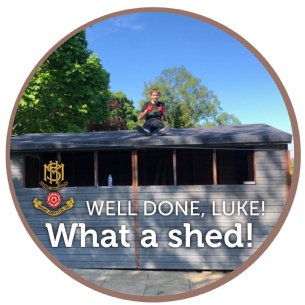 MHS Y9 student, Luke, has put his DEC! and DT skills to good use during quarantine and, with help from his dad, has constructed a SHED! The plan is to use it for a place to chill-out and work on creative art projects.
There is still some more work to be done, but it is nearly finished. Luke said, "We are getting there slowly." Fitting the windows, installing electricity, laying decking and a splash of paint are next on the agenda.
Once it is furnished on the inside Luke is planning on building a decked area in front of the shed.
Mr Stewart, Luke's teacher, is really impressed that Luke is using the skills he learned at school in a practical way at home.
Well done, Luke! 👏 What a brilliant achievement! We look forward to seeing the finished chill-out art space.