More House School Department of Music Proudly Presents The Jazz Band's New Album "Jazzlexic"!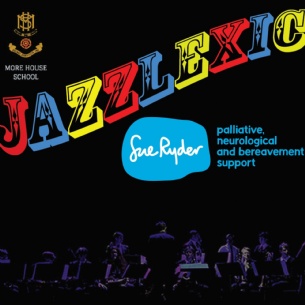 The famous MHS Big Band have launched an online album to raise money for the Sue Ryder charity, offering eleven fabulous tracks for only £5!
Order your copy today by visiting this link and transferring £5.00 to the school's Bursary, making sure you state Jazzlexic as the reason for payment.
Once notified by the Bursary, Mr Place will then share the album file with your supplied email address.
All monies raised will be donated to Sue Ryder.
Please use the link below to download the original poster with all details.

Album Information
Recorded and mastered* early 2020 by the Year 13 Music BTEC class as part of their Music Production Techniques unit, this album was conceived and marketed by the Year 12 Music BTEC group for their Marketing & Promotion in the Music Industry unit. Although the Year 12 BTEC group would tell you that the album title "Jazzlexic" referred specifically to the notation reading ability of the sax section, it is actually an affectionate nod to the neurodiverse population at More House School.

*Unfortunately, the final mastering was interrupted by the Government's Covid-19 lockdown measures.
Tracks
1. Soul Intro/The Chicken (J Pastorious/A J Ellis) recorded and mastered by Alex Heron
2. Billie Jean (M Jackson)
3. All About That Bass (M Trainor) recorded and mastered by Edward Choate
4. Chameleon (H Hancock)
5. God Only Knows (B Wilson) recorded and mastered by Alex Turner
6. Girl From Ipanema (A C Jobim) recorded and mastered by Lucas Walford
7. Bad Romance (S J A Germanotta) recorded and mastered by Hamish Burley-Knox
8. Africa (D Paich & J Porcaro) recorded and mastered by Kurt Hill
9. Stick It To Em (P Thomas)
10. Tequila (The Champs) recorded and mastered by Alex Read
Bonus track (individually recorded on smart phones all over the South East England)
11. Hip To Be Square (B Gibson, S Hopper & H Lewis) mastered by Mark Place
Album conceived and published by Sebastian Jennings, Gary Li, Angus Mellstrom & Stephen Moon 2020.
More House Jazz Band 2020:
Alto Sax 1 – Ben Wigmore; Alto Sax 2 – Noah Lewington; Tenor Sax 1 – Eddie Bruce; Tenor Sax 2 – Sarah Gooderham; Baritone Sax – Ed Choate; Trumpet 1 – Angus Mellstrom; Trumpet 2 – Matt Bond/Craig Burnett; Trumpet 3 – James Noë/Thomas O'Brien; Trumpet 4 – Aaron Cody/Kurt Hill; Trombone 1 – Alex Turner; Trombone 2 – Alex Read; Trombone 3 – Mark Place; Bass Trombone – Henry Hanssen; Guitar – Henry Kennard/Jacob Roughley; Piano – Noah Trotzig-Ruddick/Freddie Weaver; Bass – Lucas Walford; Drums – Toby Brown, Uday Pal-Trabelsi, Finlay Rankin; Vocals – Flynn McGowan