Thrills and Spills for Years 9 and 10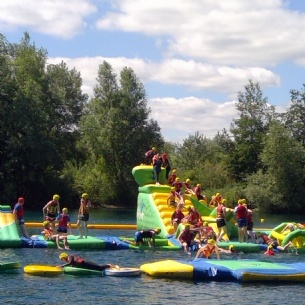 More House Pupils transform into... Ninja Warriors
We've all enjoyed an evening watching 'athletes' compete in Wipeout or Ninja Warrior on television. Imagine those shows and now throw in fifty More House year 9 and 10 students and four hopelessly outnumbered members of staff. What you're imagining doesn't even come close to the carnage that the boys experienced at Liquid Leisure in Windsor.
Once equipped in buoyancy aids and fetching helmets, the students were ready to enter the water. The very cold water. The students had made it clear that they would be hoping to make the staff members' lives challenging once on the floating platforms. Unfortunately for them, Mr Bradshaw, Mr Fitzpatrick, Mr Kalsi and Mr Renton were more than up for the challenge. What followed was an hour of high intensity rugby tackle training, on an assault course, over water.
Very soon the hour was almost up and the staff mounted one last defence atop an inflatable castle. A defence that would test the brave (yet inevitably futile) attempts of the boys. Needless to say - it was a victory to the staff.
Once dried off, everyone enjoyed a relaxed lunch by the side of the water. A perfect way to end a fantastic experience before heading back to school.