Sedimentary My Dear Luff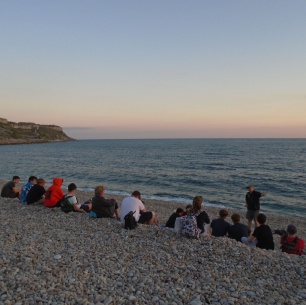 No Durdling For Seniors
Perennial favourite, Lulworth Cove and Jurassic coastline, courtesy of Luff Tours blessed with great weather and insightful learning.
Day 1
On arrival, lunch at Barton-on-Sea was welcome, with beautiful views over a tranquil Solent. A brief stone skimming session preceded the group's arrival at a caravan site on Highcliff where students were able to observe the coastal management technique of moving caravans to allow nature to take its course. Then onwards for a visit to Poole Harbour for a much needed ice cream. Finally the group made it to their accommodation, Portland Youth Hostel, offering unparalleled sea views.
A post-prandial visit to Chesil Beach (tombola or barrier bay depending on your geographical expertise), where students examined the sediment with strict instructions not to remove any segment, as the school would be fined £1000!
Earlier in the evening, a wooden bench 'viciously' attacked the minibus... in spite of the driver's best efforts, the bench left a small mark. After such a busy day, a weary group made their way to a restful night's sleep.
Day 2
Morning broke beautifully early, and much to student amusement, deep sleep evaded Mr Luff due to the incessant caws of the local seagull population. A hearty breakfast soon remedied any post sleep paralysis and the group headed off to Lulworth Cove. Working groups were established to proceed with various field trip examinations and observations at the cove, including positive and negative impacts of the tourist trade on the area.
After a delicious supper, a cinema trip to see Toy Story 4 followed, where all enjoyed Woody and co finding their purpose in life. Exhausted staff and students were tucked up in bed ready for their next day of exploration.
Full gallery here