Lay-Chaplain - Catholic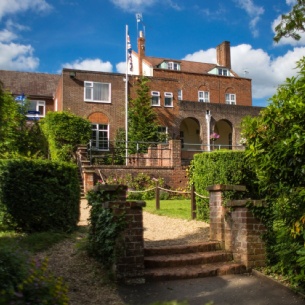 Full or part-time, maternity cover, starting September 2019.
A committed and practising Catholic with a vocation for fostering young people's exploration of their faith, and for providing pastoral support for all people – regardless of their beliefs, is sought to support the spiritual leadership of this unique school community.
Our employees are inspiring and creative, transforming the futures of intelligent pupils who experience challenges in their learning due to literacy and language-related difficulties, by empowering them.
About the Department
More House School teaches wellbeing and positive mental health strategies within the curriculum. Religious Studies is a subject delivered to all pupils in Key Stages 2 and 3, and is for some a GCSE course. Moral guidance, informed by the teachings of the Christian churches and especially by the Catholic church forms a basis for daily assemblies. A comprehensive pastoral support capability is in place, comprising dedicated form-tutors and residential housemasters and mistresses, year-group pastoral leads (Heads of Year), the school surgery and its Registered Nurses, the Lay-Chaplain, the Safeguarding team, and senior leaders, including the Deputy Head (Wellbeing and Designated Safeguarding Lead) - Mrs Ruth Hammond, and the Principal Deputy Head - Mr Andy Williamson, who provides leadership of behaviour and attendance.
Vital within the school's offer to pupils is the provision of the school's Chaplaincy, offering pastoral support and spiritual encouragement to all in the community.
About this post
An inspiring and dedicated chaplain is sought to provide spiritual leadership, advising and supporting the Headmaster in fostering a caring and thoroughly inclusive shared community bearing witness to God's love and mercy. Pupils and employees come from a wide social background, with nearly half of pupils' placements being funded by more than thirty different local education authorities. The school's Catholic population, as a percentage, is broadly similar to that of the national population; the school welcomes boys and staff-members of any faith, and those with no faith. The curriculum provides an insight into many different major religions, and pupils learn to understand and to respect those of different cultures and beliefs.
A practising Catholic, the new chaplain will coordinate the chaplaincy provision that is rooted in the Catholic foundation of the school, but supports the diversity of the school's population. With the large school chapel as a base, the chaplain will provide a witness to God's love and mercy in diverse aspects of school life. There may be opportunities for the post-holder to become involved in school assemblies, teaching or pupil supervision if he or she wishes.
Full or part-time considered. This is a non-residential role, although for the right candidate there may be the possibility of on-site accommodation afforded for the purposes of engaging in residential boarding duties, as part of the boarding team.
The above list of duties is not exhaustive, and the post-holder may be required to perform such other duties as may be, from time to time, deemed necessary by the Headmaster. This is currently a non-residential post, but on-site accommodation may be available for the right candidate where engagement with residential boarding duties is agreed.
A comprehensive induction programme is offered, and ongoing professional development is supported through INSET days and training opportunities, in which staff-members are expected to continue their professional development and practice, supported by excellent internal and external opportunities. Lunch is provided free of charge, daily, as is parking within the school's beautiful grounds.
We welcome informal visits, please book here
Closing date: 5pm Monday 17th June
Interview date: 24th June
This post is subject to an Enhanced DBS clearance and the receipt of satisfactory references before a formal job offer is confirmed. More House School is firmly committed to safeguarding and promoting the welfare of children and young people.