Residential Houseparent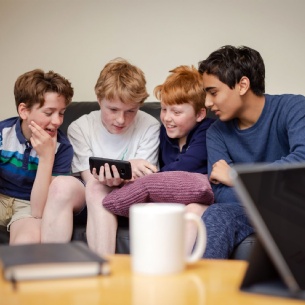 Full time, residential, permanent position September 2020
A professional experienced in providing educational or residential care to children and young people, or a graduate seeking their first position within a school and/or boarding environment to join our enthusiastic residential staff team. The post offers the following:
Free residential accommodation – term-time and holidays
Up to 17 weeks 'school holiday' each year.
Free meals (3 per day) during term time
Equivalent of at least one full day off per week and up to two days dependent on weekend shift.
Working hours usually permit staff to be off-duty between 9am and 4pm each weekday
Comprehensive staff induction and funded staff training in Residential or Boarding Schools' Association accredited courses.
The School
Nationally celebrated, More House School provides an exceptional, mainstream education for boys with Specific Learning Difficulties. Providing a transformative education repeatedly recognised as 'Outstanding' by Ofsted over more than a decade, we offer a specialised learning environment for 470 day and boarding boys from Year 4 to Year 13. Our pupils are taught to recognise their strengths and develop their self-belief so that they achieve independence and extraordinary results at GCSE, BTEC and A Level, above the national averages.
Delivering a mainstream independent-school experience, both academically and socially, the very broad curriculum affords all pupils the opportunity to discover their strengths, challenging them to fulfil their academic and extra-curricular potential. All boys who attend More House are individually timetabled, with many receiving supports through the on-site Learning Development Centre and its qualified therapeutic staff. Judged 'Outstanding' by Ofsted in its last four school inspections, our most recent inspection (March 2019) graded More House School 'Outstanding' overall, and 'Outstanding' in each of the six sub-sections of the report, both for educational provision and for the residential boarding provision. More House is CReSTeD approved, listed in their Specialist Schools category, and is a member of the Independent Schools Association and the Boarding Schools' Association.
The school is set on a wooded hillside in nearly thirty acres on the Hampshire/Surrey border, and attractive modern facilities lie above the playing fields. London Waterloo is one hour away by train from close-by Farnham railway station, and there is easy access to the M25, M3 and A3 major routes. Guildford is twenty minutes' drive away.
In recent years, the school has refurbished and extended its boarding facilities, refurbished its eight Science laboratories, built its School of Engineering and CAD facilities, and opened a new Humanities block and school Chapel. Autumn 2017 witnessed the completion of our brand-new library and Media Studies centre, and growth in learning support facilities. 2018 saw the expansion of the site and the conversion of a large domestic building into our new Sixth Form centre, which was opened in
The Boarders
The boarders thrive on the support provided by an enthusiastic and committed team of residential staff who support one another closely.
There are currently just under 100 boarders, the vast majority of whom board during the school week, with a small number remaining in school at non-exeat weekends. Recent expansion of Main House increased capacity and provided extra social facilities. There is an ongoing commitment to development of the boarding facilities.
The youngest boarders are accommodated in eight-bed dormitories and the older ones in either single or shared study bedrooms. All thrive on the support of our committed staff team to develop themselves and their learning. They are a caring, lively group of children and young people. The ethos of the school is sensitive to their needs and the feeling of shared community is one which we nurture.
About this post
The School is open for around 35 weeks a year. The post-holder has responsibility to the Head of Boarding and Headmaster for the care and welfare of a dormitory or corridor within a larger house, and as part of a team of housemaster/mistresses, supporting students' emotional and physical well-being and development. They will be required to participate in the school's extra-curricular activities programme. This is a non-teaching role, although it may be possible to take on a small amount of teaching, dependent on subject and timetable.
Closing date: 5pm Monday 6th April 2020