Library
We have hundreds of new Fiction and Non-Fiction titles for you to choose from which you can either enjoy in the library, or loan and take home. We also have regular subscriptions to a huge variety of magazines for you to browse and enjoy.
We are hugely thankful to the Friends of More House School for their generous donations to enable us to supply the kind of library you have been waiting for, and we are sure you will agree, it has been well worth the wait.

Our new Reading Cloud platform lets you see exactly what we have in the library from home or boarding, basically anywhere with an internet connection. On the 'home' page, you will be able to find out information about our 'book of the week', get recommendations of books to loan, listen to authors talking about their writing, read book reviews from your peers, and see what's trending on Reading Cloud within your school, and across the country. Once logged in, you can go to 'profile' to build your own avatar and share book and author likes with your friends. The 'account' page gives you information on your current and past loans, and any reservations you may have.
From the 'home' page of the Reading Cloud, you can also access our amazing new ebook and audio book platform via the Sora app. Click on the link and use the same username to log in, and browse our new online collections. We have ebook graphic novels, ebook non fiction, as well as popular ebook and audio book fiction, and a classics collection. We also have a 'readalong' collection where you can see the words highlighted as you hear them. This platform can also be downloaded as a stand alone app on your device; just search for Sora App in your app store.
So boys, get reading and explore a whole new wonderful world of words.......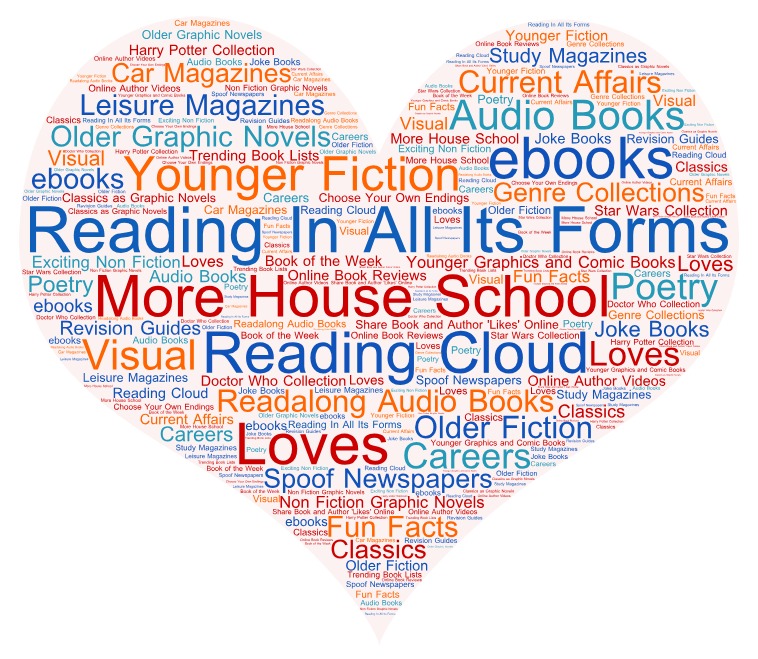 https://www.readingcloud.net/?site=u022013&sitename=Main&theme=blue