YEAR 11 RESULTS 2017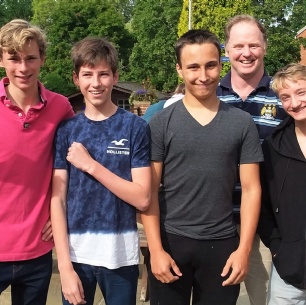 Brilliant outcomes for pupils with special educational needs
More House pupils overcome adversity
Year Eleven pupils at the specialist More House School in Frensham are celebrating GCSE and the BTEC equivalent triumph, having overcome the barriers posed by specific learning and language difficulties.
With an incredible 73% A*-C pass rate in their GCSE and BTEC-equivalent courses, which surpasses the reported national average of 66% More House pupils have achieved what so many of them thought impossible before joining the school.
Diagnosed with Dyslexia, Speech and Language processing disorders, social communication difficulties or other associated conditions, More House pupils travel a unique journey which must start with their learning to believe in themselves.
Despite nearly half of the Year Eleven pupils having a Statement of Special Educational Needs or a new Education, Health and Care plan, that belief has been proved well-placed by the school's GCSE and BTEC results this summer.
99% of GCSE and equivalent BTEC courses taken by More House Year Eleven pupils were awarded passes, and 54% of pupils secured at least five GCSE and equivalent passes at grade C or higher, and including GCSE English and GCSE Mathematics.
Headmaster, Jonathan Hetherington, expressed his congratulations to his pupils and staff, commenting "what our pupils have achieved, and the challenges each has overcome, are extraordinary, and reflect the tenacity of our students and the incredible commitment and expertise of our teachers and wider staff".
He noted that 47% of those pupils at More House whose level of special needs is represented by a Statement, or an Education, Health and Care plan, achieved five A*-C passes including English and Mathematics – an incredible success for such students.
He also noted that 39% of certificates awarded to More House pupils were at grade B equivalent or higher, and that 17% of grades achieved by More House pupils were the highest A* and A grades or BTEC equivalent of Distinction * and Distinction.
A majority of pupils will now enter the Sixth Form at More House to study A Level and equivalent courses, and many are expected to progress to university in two years' time.