Founder's Day 2019
Headmaster's Address
My Lord-Lieutenant, Worshipful Mayor, Governors, pupils, ladies and gentlemen,
Within a report of the school year, it is natural to consider details in order of chronology and significance. My last report, on Founder's Day last year, was delivered a few weeks prior to the publication of the summer's examination results. Such results are, and should be, a key performance indicator in evaluation of a school year, since the outcomes have such a strong influence on our pupils' lives.
In last year's cohort of Year Eleven pupils, 54% of pupils held an Education, Health and Care plan, indicating the legal recognition of a high level of special educational needs. National statistics for good passes at GCSE for such young people are dire.
And yet 64% of GCSE and BTEC certificates awarded to our pupils were at C grade or higher, beating the national averages – regardless of special educational needs.
In Mathematics especially, More House pupils beat the United Kingdom average, for the percentage of pupils achieving a C grade equivalent or higher in their GCSE.
That across all of last year's More House Year Eleven candidates, 38% of certificates awarded were at the highest GCSE grades of 9 to 7 and the BTEC grades Distinction* and Distinction – equivalent to A* and A in old money – is exceptional.
And we welcomed more than three quarters of our Year Elevens into the Lower Sixth in September.
A week before the announcement of the GCSE results, the Sixth Form's A Level results were published. 81% of last year's Upper Sixth held an Education, Health and Care Plan, but our Sixth Form celebrated a 97% pass rate for A Level and equivalent Level 3 BTEC courses, with 63% awarded at C grade and equivalent, or higher.
A* and A grades, or the BTEC equivalent of Distinction* and Distinction, accounted for 31% of certificates.
On the back of this, our Sixth Form leavers progressed to a range of higher education and career destinations, including to undergraduate study in Architecture, Biochemistry, Microbiology, Physics, History, English Literature, Photography and Music - and one student accepted his place at Oxford University to read Mathematics.
Only a very few years' ago, many of last summer's successful exam candidates would never have believed themselves capable of facing such exam papers, and certainly not of achieving such outcomes. And yet, they learned to believe in their natural intelligence, and to find and harness their strengths.
We now look to this year's Upper Sixth Form leavers who, together with our Year Elevens, await the release of their results this August. Whilst the large majority of our Year Elevens will return in September to commence their Sixth Form studies, we wish those who are leaving us this summer, and all of our Year Thirteens, luck and good fortune for their future endeavours. We recognise the huge achievements you have realised through your determination in the face of adversity, and congratulate you on becoming powerful in your own lives.
But there are a few of our Sixth Form leavers whom I wish especially to recognise. I ask the following boys, please, to stand as I read their names – don't worry; you are not in trouble.
Ernst Beeslar, Ned Forster, Peter Gill, Matthew Groom, Jus Kalsi, Lewis Kirby, Angus Lacey, Samuel Pugh, and Callum Stimpson
These boys' experience of More House School has been particularly special. Each of them joined More House as a member of the junior school, in years four, five or six, and have progressed through all year groups to reach their final year of Sixth Form. We offer particular congratulations to you.
In the face of an ever-increasing politicisation of education, with short-term 'gains', and a skewed examinations and assessments framework that marginalises ever more those young people whose neurodiverse profiles disadvantage them in the recognition of intellectual capacity, we identify more than ever before the need for a different approach. One that sees the wood in spite of the trees. Where children's natural aptitudes and skill-strengths are not only recognised and appreciated, but are promoted through challenge, and are celebrated.
Last year's inspirational speaker, Dr Joshua Muggleton, reminded us of the necessity of a neurodiverse population. He described the power of differing skill-sets for industry, and for society. Why can our country's education system not recognise that value, and serve those same needs through a neurodiverse curriculum and assessments system?
A central tenet of our More House education is that of variety of experience. This year we have, again, expanded our curriculum, offering our Year Tens GCSE Sociology for the first time ever, in addition to some twenty other options subjects. That our pupils have the greatest opportunities to find and pursue their strengths is vital to their success, and today we celebrate achievements across a vast array of disciplines and skills.
We recognise that education spans far more than examined syllabi, and that the experiences of pupils beyond that academic curriculum shape their understanding of themselves, their sense of purpose and worth, and their lives. This year has, again, been rich in such experience, and our pupils have excelled in sports, in the visual and performing arts, in problem-solving, in cookery.
The senior-school production, in November, of Oh, What a Lovely War! marked the 100th anniversary of the signing of the armistice, and was as powerfully poignant, and shocking a production, as it was highly skilled and impressive.
There have been many off-site trips, both day and residential. Most pupils and their families will have received, now, their copy of the end-of-year magazine, giving a flavour of the variety of activities in which pupils have engaged. If you have yet to receive your copy, please collect your named envelope from the table outside the marquee after the ceremony.
Of the larger trips, the visit to Toronto by the school's Jazz Band, accompanied by Sixth Form Fine Art, Photography and Media students, was a particularly exciting opportunity for many of our senior pupils to visit Canada. Public performances of the jazz band were complemented by an array of other cultural experiences.
At the start of Activities Week, our World Challenge team departed for Kathmandu, and are currently engaged in a month-long tour that includes a trek to the base camp of the Himalayan peak, Annapurna, and voluntary work in a local school. Despite contending, so far, with a minor earthquake and the disturbance of a snake, all is going well and I look forward to their safe return on the 30th of July.
Other experiences have included a busy schedule of sporting fixtures against myriad schools, both home and away. A highlight this year was our actually winning one of our matches against Eton College – I don't think it was against their first team though.
Particular congratulations go to Alex Campbell, Che Flowerdew, Jonah Hillerby, Rhys Potter and Luke Tocher – please do stand up, boys - who made it through the Independent Schools' Association regional heats, to swim in the Olympic pool for the all age-group 50m free-style national final - and came away as ISA national champions, with gold medals for their category.
Our musicians have performed at the Farnham Festival, at G-Live in Guildford, at Farnham Castle, at local village fairs and at private parties. Our artists have entered competitions, and younger pupils have developed their pen-pal links with a local elderly-people's care-home, and have visited their pen-pals.
The past year has seen the continued development of the school's site and facilities. You know that on Founder's Day last year I announced the purchase of the large residential house and accompanying three and a half acres of land on the school's eastern boundary, Crosslanes. During last summer and into the Michaelmas term that house underwent extensive re-ordering and refurbishment, and the boundary between the two sites was opened.
In January, our Sixth Form moved into their new academic centre, comprising teaching and independent study rooms, common-rooms and gardens, and offices. Many parents and younger pupils took advantage of the Spring Fayre and Easter Service day to view the new facilities. All here are welcome to visit the new Sixth Form Centre, accessed from below the playground, after the formalities this morning, and indeed classrooms across the school have displays of work. Please do tour the site.
Future development of the newly acquired land is planned, with the aim of improving the school's sports facilities, increasing opportunities for pupils all year round, and with the aim of improving the management of traffic, and vehicles accessing the site.
But development of the school is not limited to its facilities.
Our pupils unlock their talents, and succeed in their academic courses, because our teachers become highly skilled at delivering learning opportunities designed to play to our pupils' profiles of skill-strengths, and to recognise and address their skill-weaknesses. This is achieved by a continuous commitment to individual and whole-team professional development, central to the ethos and effectiveness of this school.
Much of this continual development is driven through the school's own Teaching and Learning Community, coordinated by James Kay. This forum is not restricted just to sharing good practice, but promotes and shares innovative, creative teaching methods, designed by our own, hugely dedicated teachers, boarding staff, therapists and school nurses, across all departments. They ensure that our pupils' educational experience is truly accommodating of their neurodiverse learning profiles, so that each pupil is enabled to make the best progress.
The professional development of all staff is led by Eleanor Margesson, who launched at the beginning of the academic year, the Staff Training Forum. She has devised, with colleagues, programmes of study to support the induction of teachers new to the profession, and employees in any role new to the school. She has implemented further programmes of study to support the continued development of professional knowledge and understanding, and ever more effective practice, in the classroom and beyond. Groups of our teachers support one another to complete these programmes – pushing the boundaries.
We are truly fortunate to have such an expert and committed team of staff, in all roles, who share an uncompromising dedication to supporting every pupil to achieve the best possible outcomes. Their commitment transcends the usual expectations, and is reflected in the voluntary hours and days spent helping pupils, far beyond the expectations of the school timetable. I invite you, pupils and families, to share with me in showing gratitude for their service.
Another area of development is the school's outreach programme. We have continued this year to provide free expert training to headteachers, special educational needs coordinators, class teachers and teaching assistants - from local state-maintained and independent schools - through our Spotlight Training Seminars programme. Our staff have presented at the Independent Schools Council's Special Needs national conference, and have delivered lectures and training days on behalf of the Independent Schools Association, hosted here, and at venues across the country.
We are excited by the potential of developing this area of our work, recognising the benefits such engagement brings to our own pupils and teachers, and supporting our charity's aims.
More House School has continued to be innovative, under the leadership of Ruth Hammond, in the field of positive mental health and wellbeing, launching timetabled wellbeing lessons supported by bespoke, inspiring resources - and training amongst pupils and the staff, wellbeing ambassadors.
But above all else this school is a community – one that we all share. A community of shared experience and values. One of shared belief in what we know is possible. This is never more evident than when our community unites in support of members in the greatest need. Over the past nineteen months innumerable acts of kindness and generosity have buoyed the Faasen family in support of Armand and Carol's daughter, Bryony.
And through this academic year the Our Henry campaign, on behalf of our school's Head Boy, Henry Young, and his family, has raised more than £24,000 towards The Aplastic Anaemia Trust and the Anthony Nolan charity, through humbling generosity of so many More House families and members of the public. We are thrilled that Henry is with us today, after two bone-marrow transplants and two bouts of chemotherapy.
Acting on our strong sense of obligation to support others in society is a fundamental element of our school community and Christian ethos, and we have been pleased this year to continue to support projects in Tanzania, where we have benefitted from strong links for the past thirteen years. From monies raised by our annual sponsored walk, we have this year donated £10,000 to Mdawi School following catastrophic damage to classrooms in heavy rains. We have donated a further £5,000 to Tanzania's Second Chance Education Centre, helping the most vulnerable children to have basic life-chances, and we are now in our fourth year of funding the training of a medical prosthetics specialist, Bennie Kale.
This year has been especially important for our community, being the eightieth anniversary of the school's opening, in 1939 by Brother Joseph Gard'ner – the school's first headmaster.
The publication of a comprehensive history of the school and this site, stretching back as far as the late eighteenth century and charting the school's development to the present day, has seen the realisation of a fascinating project undertaken by local historian, Roy Waite, whom we warmly welcome today. A great many of you pre-ordered your copy of More and More in the inaugural print-run. This beautiful, hardback book will continue to be on-sale, purchased from the school office.
Late June witnessed the school's birthday party, celebrated with a Proms in the Park outdoor concert in the school grounds, selling more than 700 tickets. It was a treat to enjoy such a large number of the school's pupils performing in a wide variety of musical ensembles, to such an extraordinary standard. We owe a huge debt of thanks to The Friends of More House – our tireless team of parent fundraisers who do so much to tie this community of families together. Thank you to you, to the boys who performed, and to the very many members of the staff who contributed to make the evening such a spectacular party.
We are indeed indebted to The Friends, who provide such a warm welcome to those families newly joining our school. I hear from reports that the More House School Dads' Pub Night is now a fixture on many kitchen calendars. Our pupils benefit hugely from the fundraising of The Friends. Growing the paper and on-line loan-stock of our superb library is drawing more and more boys into a love of reading and of literature. And the most recent installation of our new Big Rig, multipurpose outdoor gym, sited between the Bradbury School of Engineering and the Swimming Pool on your right as you ascend the hill, offers great opportunity for our senior boys and adults to participate in exercise available on-tap. It will also support our Occupational Therapy programmes and the P.E. department's offer.
This has been an enormously successful year for The Friends, and I invite you to share in acknowledging the work of the whole team, and especially the outgoing co-chairs, Ms Sinclair and Mrs Wellesley.
I also thank Mr and Mrs Elliott, who will take over the reins as the incoming co-chairs.
As another celebration of this eightieth year, I decided to arrange a whole-school photograph. It seemed time, since the last one took place in 2014, in recognition of the school's 75th year. We are fortunate to work in an environment of stunning rural beauty, no more so than on our playing fields framed by magnificent oak trees.
Perhaps early March was not the ideal time. In consultation with the experts it was apparent that to attempt to erect a scaffold on which the entire school could be borne, would be to prepare for a sinking of Titanic proportions. Thus the search for another position on the site - one affording stability whilst ensuring sufficient distance before the lens, ensued. Using a particular corner and angle of the playground might just work. And so the school assembled. I had forgotten how complicated determining height order is – apparently. And we began to be loaded onto the staging.
Five years since the last time the entire school stood together before a camera.
So is it simply bad luck that at that moment Ofsted telephone to announce, not just a school inspection – but two inspections, with two inspection teams, to commence at lunchtime the following day? Perhaps that explains why the afternoon follow-up photographs of the Sixth Form, and the Year Elevens, lack the presence of senior staff.
But you know the outcome of those two inspections. The highest possible accolade achievable by a school, More House School was again graded Outstanding, in every category of the combined inspections report.
If you will forgive my quoting, very briefly, from the published report:
"Pupils' needs are at the heart of everything that staff do" and "Pupils are looked after exceptionally well";
"They thrive in an environment in which their needs are understood well and met fully";
"Boys receive excellent support from boarding staff and make remarkable progress in many aspects of their lives";
"Students make exceptional progress and are prepared well for their next steps".
This is indeed our school. It is an exceptional school in which the mainstream academic expectations are achieved by pupils, whose cognitive profiles place them at odds with a narrow, heavily politicised, national education system. It is a school which recognises that there is no one way. It is a school that displays, in all its work, a fundamental commitment to celebrating, and accommodating neurodiverse people - a population of children that we know represents the national population. And which is our world's next generation and our futre.
The threat to independent schools within the evolving political landscape is tangible. The public's perception of independent education, too often coloured by thoughts of high privilege - of Eton and Harrow and Winchester - is ignorant of the many, smaller independent schools in which children for whom the state-education system realises great disadvantage – find a place to grow, and to build their own chances.
The media fails to recognise the vital necessity of such schools in offering a provision which local authorities have no power to be able to develop themselves. There is a frightening ignorance of the thousands of pupils placed by local authorities into specialist independent schools, such as More House, because there is no adequate provision in the state-maintained sector.
It is this school's independence and autonomy that enables us to benefit from a model of education unlike any other. And that enables our boys to thrive. Our school's vision is to enable intelligent pupils with Specific Learning Difficulties, Developmental Language Delay and associated conditions, to transform their futures, by empowering them.
With the unbending commitment and support of our pupils' parents and families; with the dedication of the school's staff – in all capacities; with the devotion and stewardship of the school's governors; and with the incredible resilience and determination of our pupils – so they gain that power – a power by which they take control of their fortunes and become happy, successful and autonomous citizens.
Gentlemen – today is your day. Congratulations for all you have achieved in this past school year, and on the progress you have made towards gaining the skills and qualifications to be truly independent. Thank you for your energy and for your support of one another. It is, again, the greatest privilege to stand before you as your headmaster, and to celebrate with you.
Thank you.
Barry Huggett OBE address

Mr Chairman, Headmaster, Ladies and Gentlemen.
This school has always been very good at enticing famous, or reasonably well-known speakers to attend special occasions. Thus, Princess Alexandra opened the Sports Hall, Bear Grylls excited some youngers boys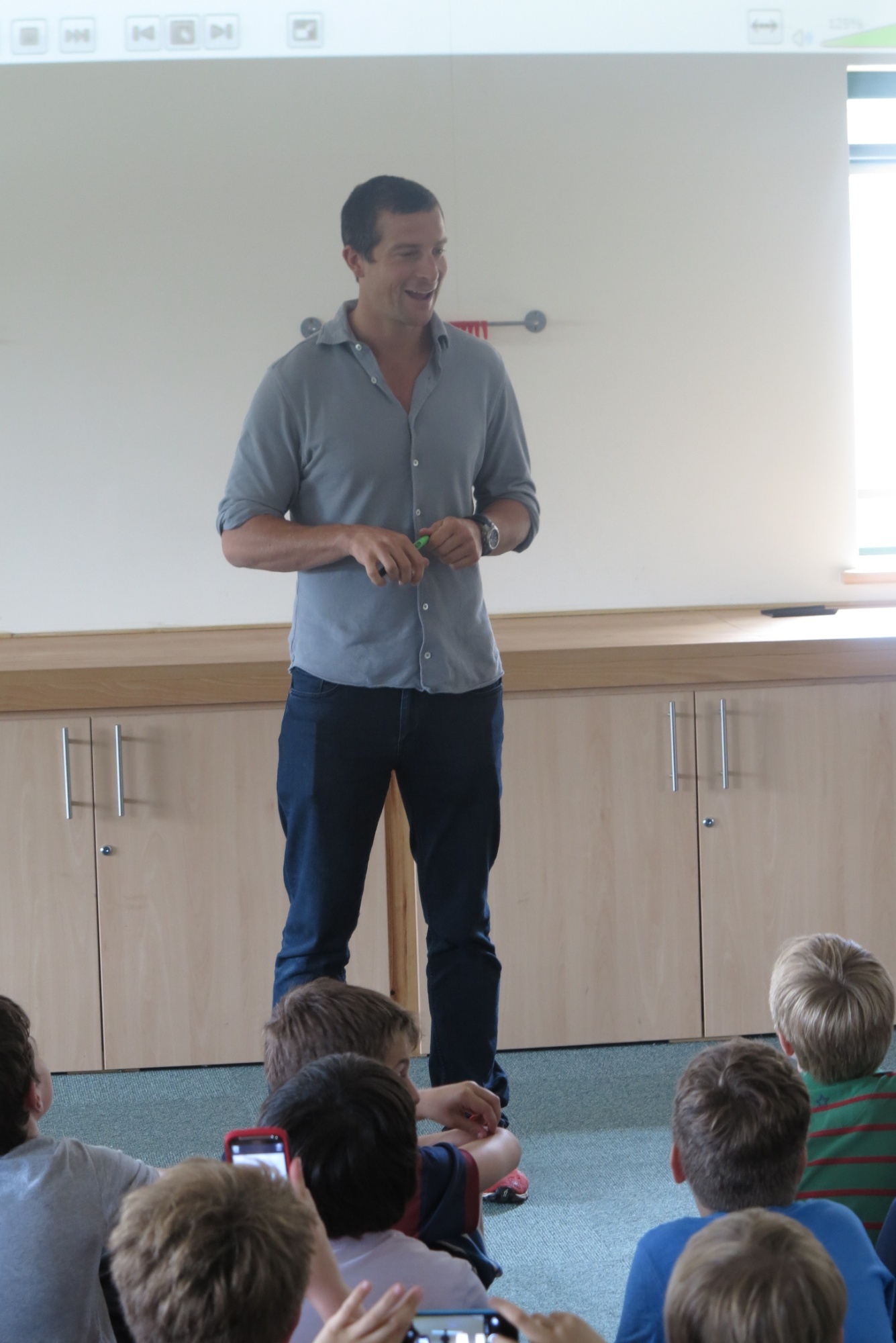 with their project work and Lord Rogers used bolt cutters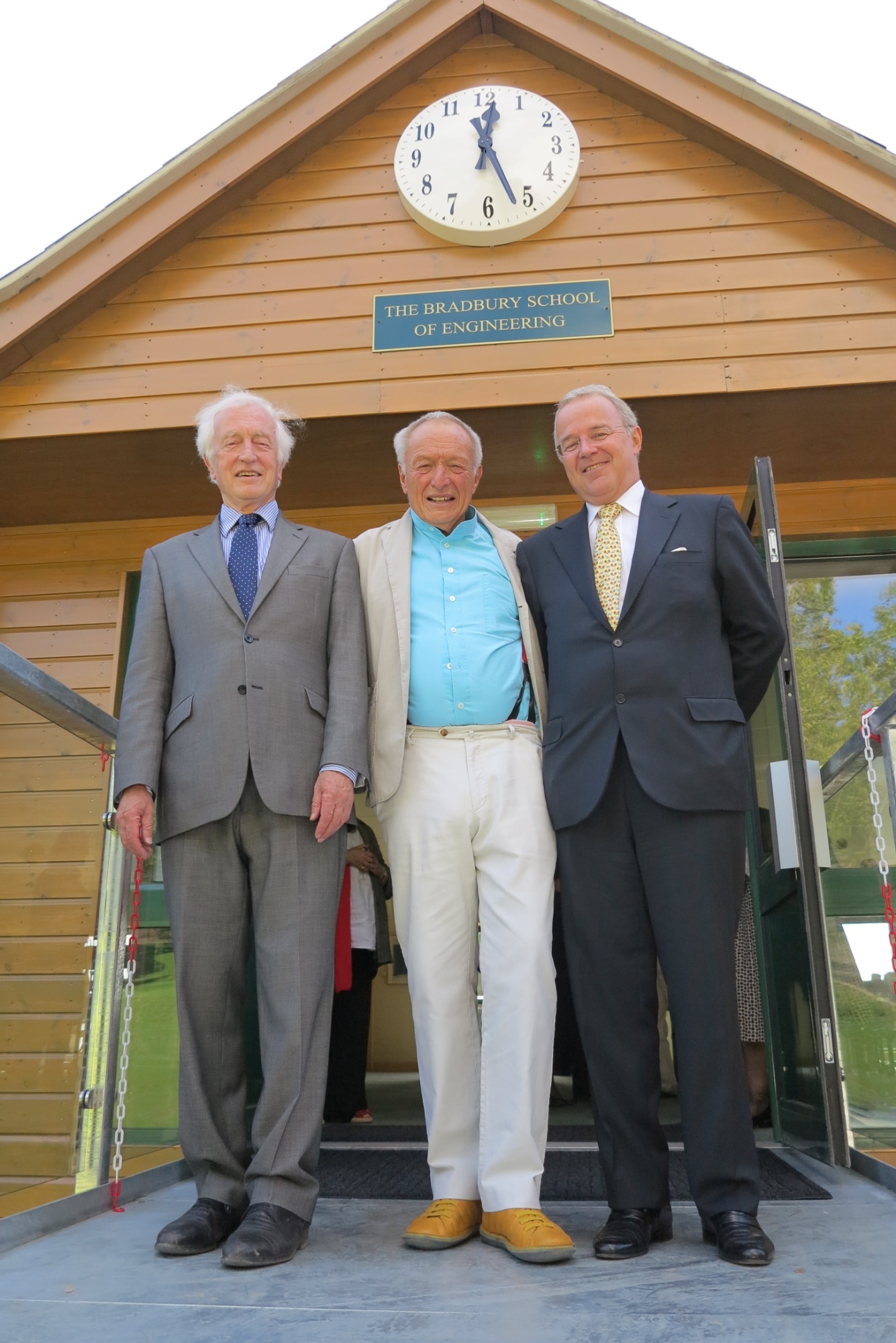 to sever the chain across its entrance to declare the Bradbury Technology Centre open for business. I suspect the Headmaster and governors really wanted someone who could span the whole 80 years of this hugely successful school's existence to speak in this special anniversary year, like those wonderful veterans who relived their D-day experiences last month, but all they could find was me and I am 25 consecutive Founder's Days, 21 as Headmaster, 3 as a relaxed member of the audience and this one, which so far has not been at all relaxing.
I never expected to move across to this lectern where many worthy and well-known speakers have stood before – including Helen Arkell, Dame Mary Peters and even Jeremy Hunt.
Meriel Davenport told me to add amusing anecdotes into what she felt should be a brisk canter through my time at More House, but I did not keep a diary and most of what I could say about the wonderful, resourceful and often amusing students and their teachers, could not possibly be aired in public, so I will NOT be talking about the boy who decided to travel to France to see his holidaying parents assisted by biscuits and a school atlas, nor about the small accident which burnt down the portable lavatories which we had hired and definitely not about the illicit tattoo parlour and the experiments with Indian ink and sharpened compass points.
And as far as my time here is concerned, that's amply covered by the excellent "More and More" by Roy Waight which I know many of you have purchased. It talks of the school I found in 1993. The challenges that had to be overcome and the growth of the school as more appropriate methodology was introduced and of course the building programme which has continued to this day, supported by our generous donors, especially the Bradbury Foundation so that specialist areas can be used to give a wide range of subject choice, something which the government fails to recognise for it is vital to give every student the opportunity to develop what he can do well as it is to support what he finds difficult.
I would love to tell you that all this development ran, like clockwork, according to some master plan, but that would be true. We experimented, some things worked, some did not but our aim all the time was to bring about improvement in everything we touched and definitely we, not I, all were and are involved, cooks, gardeners, cleaners, office and financial staff as well as teachers, therapists and boarding staff, all meeting, sharing ideas and working together. You have to be pretty bright to work here as a teacher, therapist or in the boarding staff. You have to think on your feet and adjust to the changing needs of those you are working with and challenge them so that they achieve beyond their dreams. Which is why the Iranian fighter pilot I employed in the Maths department and the supply teacher I found knitting when he should have been teaching did not last long.
And what was the main driving force behind the development of the school – the boys themselves. Always.
Consider John, beset with coordination difficulties, unable to write legibly, very frustrated, which made home life difficult. He shredded his school jumper in his frustration but his teachers and therapists worked with him. Developed new ideas, new ways of working on his laptop. John became a charming boy, went to university and on to lead a life of purpose, the ideas developed here to support him helped others too.
But it is not just staff who found new ways of working. A small service in the chapel, three boys have been asked to read, one finds great difficulty, but the others support him, tell him the words he cannot read, no embarrassment, no-one complains, its just how things are and how the climate developed in the school which helps to overcome difficulties.
Buildings are exciting, each new one can be opened to great fanfare, but it is the small changes, the new ideas which have driven the school along. When I was headmaster, I did not get out much, in fact many headmasters are quite insular. Since leaving here and going on to other work, I visit many schools and in each talk to children, teachers and headteachers and I often have to advise on how the school might improve its effectiveness in carrying out its mission, especially to do with special needs education. Results in public exams are a crude measure, and this school exceeds all national expectations. But effectiveness is much more, made up of all the opportunities available, the wide subject choice, the Music, Art, Photography, Technology and the extra-curricular programme.
If Brother Joseph, our Founder, could look at the school as it is now, I am sure he would be content. The Circus is no more, but many other stimulating things have replaced it.
If only what is available could be offered to the 1.4 million children and young people with similar profiles spread across the country.
An effective but very different school but ne which this school has supported for many years is Mdawi School in Tanzania. Single storey, run down buildings, but recently refurbished with help from More House, painted green and cream, built around an earthen courtyard of red soil on the slopes of Kilimanjaro. Boys in khaki shorts and always clean white shirts, girls in smart dresses.
From our school experience and that is what, I believe, is an effective education, we used to say that you went to a small school to be taught, then, much better, to learn, but if you are involved in the hole school experience, you will be in charge of your destiny and you will give to that school community as well as receive from it.
You will have read this year's Ofsted report on this school which is the best I have ever seen, so fulsome and detailed in its praise and I think it showed an outstanding school experience which your headmaster engineered but the whole school, governors and all the children and young people contributed to in so many different ways, especially the relationships throughout the school and the kindness which abounds.
Last year on Founder's Day, Dr Muggleton told us to celebrate our differences. I would add, be proud of what you can do well, be that physics, cooking or skateboarding. Do not be afraid to shine in this dark and increasingly chaotic world, you will light up others' lives.
If you are leaving the school this year, my thoughts and hopes that you may have a fulfilled and happy life.
Those returning, may you find new ways of involving yourself in the school community.
Headmaster, thank you for inviting me today, congratulations, not just on the 80 years, nor the Ofsted Report but what you and all the staff do every day to make this school truly outstanding.
Gareth Hoare | Deputy Head Boy address

Good Afternoon Ladies and Gentlemen,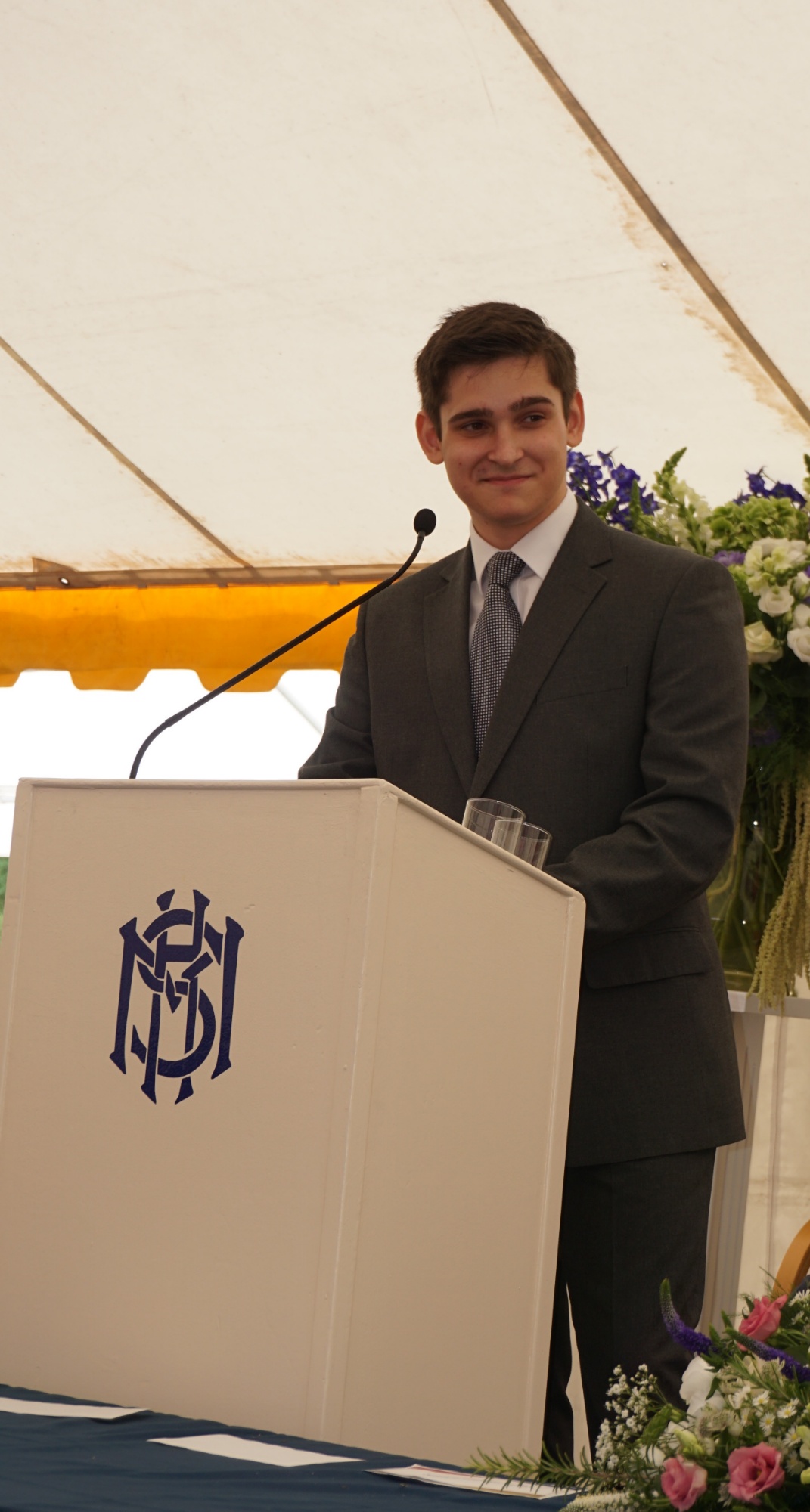 BISCUITS…. are one of the reasons I'm here today,
(I hope that might catch the attention of the juniors). Why? You ask,
My first school was in North London and in my early years My Mum knew something wasn't quite right. No-one could explain why she was always being called to school as I was getting into trouble and not progressing.
The turning point came when one day she received a phone call from the school secretary. Apparently, I had gone missing for over an hour. But, it was okay, I had been found. However, the secretary was furious!!
I had been discovered in the Headmasters office, eating his tin of biscuits!!
My Mother replied 'He's six! …….What do you expect him to do when he sees a tin of biscuits?'
Shortly after, the Headmaster told my Mother, he liked having me around, BUT the school was not able to help me and I should move on.
As a parting gift, I gave the Headmaster a large tin of biscuits!
He was very amused by this, however the secretary was not! Rest assured Ladies and gentlemen, I was no angel. I'm reminded of that even today!
I tried to get in to various other schools but they all said no.

Finally I got into Fairley House, a specialist school in London, which some of you may know. It was at this time that I was given my diagnosis of Dyslexia, ADHD and Autism, so I was a challenge. Fairley House gave me the building blocks and helped me rebuild my confidence, but I had to find another school at secondary level.
So once again my Mum sought out a school that could help me and was very relieved when More House said yes.
I arrived 6 years ago as a rather pudgy 11 year old. Within a year of climbing up and down that hill six times a day, I became much fitter and my confidence continued to grow.
I cannot list everyone who has helped me in the past six years, but I would like to mention a few:
1) Mr Morgan and McCann, thank you for always keeping me on track. You two are truly, the Batman and Robin of the Tech department.
2) Mr Aldred, thank you for giving me the opportunity to visit the E4 studio. It was a great experience and I am going to miss your humorous movie reviews.
3) Mr Pointer, thank you for all the laughs and getting me through Product Design.
4) Mrs May, Thank you for putting up with my increasingly casual dress code. I'm going to miss our form times.
5) Also, thanks to Mr Fitzpatrick, for helping a dyslexic get through the mountain of terminology and reading required in A level Psychology. You are a legend in your own time.
6) Finally, thanks to Mr Hetherington and his team, for all the help and support they've given me throughout the 6 years of being at More House.

I have certainly travelled since being here. I have skied in Italy, visited Berlin, Brussels, Poland and been on a six form trip to Paris.
(I'm afraid tour rules apply so can't tell you about what went on!)
A message for the juniors, do as many activities as you can whilst you are here!
I have learnt how to: ski, rock climb, play golf, play the piano, and do Duke of Edinburgh.
I also went to Tanzania for a month with World Challenge and learnt to lay a concrete floor and reached the summit of Mount Kilimanjaro!!
I'm still learning though and need to pass my driving test and learn to ride a bike!!.
Thank you to all the staff who give up their time to allow us to do these activities.
Turning to the future,
I have been offered a place at university doing a four-year Model Making and Special Effects degree with a year studying abroad, hopefully in the USA.
My dream is to work in the film industry.I know there will be a lot of challenges yet to face, not least the impact of Brexit……( yes the dreaded B word) and finding out where to buy the cheapest noodles to reduce my student debt.
But with the skills I have learned at More House, I know I will be able to cope.
To the younger boys, you will have 'off' days, but don't forget, this is an amazing school and the teachers and staff genuinely want you to do well.

Throughout everything my Mum and Grandma have been there supporting me at every opportunity so I must also say a huge thanks to them for getting me this far.

Finally I'm delighted to mention that the theme of BISCUITS I opened with, continues, as in my last year as Deputy Head and Head of pupil Voice,
I am again in the Headmasters office, attending lots of meetings, and eating his BISCUITS!
Here is a small parting gift to share with the next team…thank you everyone!