Rowan Illustrates Kindness Beautifully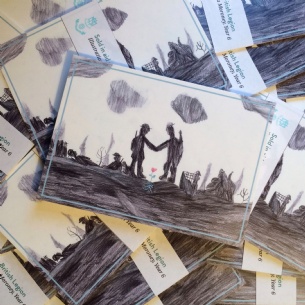 Year 6 Student Produces Outstanding Work Depicting Kindness.
During a recent lesson where the class were tasked with illustrating kindness, Year 6 pupil Rowan chose to draw two soldiers shaking hands in No-Man's Land, a red poppy blooming in the soil between them. The artwork so impressed Mrs Hammond that, with Rowan's permission, she had it printed professionally as postcards.
Bundled into packs of four, the cards will be available to purchase this week at the MHS production of 'Oh! What a Lovely War'. The minimum suggested donation is £1.00, and the proceeds from the sale of these cards will go to the Royal British Legion.