Safer Internet Day 2019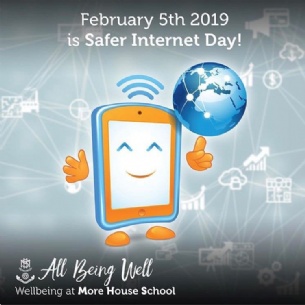 Safer Internet Day 2019 will be celebrated globally with the theme: Together for a better internet.
This Safer Internet Day is bigger than ever! With more than
2000
organisations and schools
across the UK getting involved to help inspire a national conversation about using technology
responsibly,
respectfully, critically
and
creatively.
The day offers the opportunity to highlight positive uses of technology and to explore the role we all play in helping to create a better and safer online community. It calls upon young people, parents, carers, teachers, social workers, law enforcement, companies, policymakers, and wider, to join together and help to create a better internet.
UK Safer Internet Centre
The UK Safer Internet Centre is a partnership of three leading charities – Childnet International, the Internet Watch Foundation and South West Grid for Learning, (SWGfL) - with a shared mission to make the internet a better place for children and young people.
The partnership was appointed by the European Commission as the Safer Internet Centre for the UK in January 2011 and is one of the 31 Safer Internet Centres of the Insafe network.
The UK Safer Internet Centre delivers a wide range of activity to promote the safe and responsible use of technology by children and young people:
How safe are you? try UK Safer Internet Centre's quiz.
Top Tips for staying safe on the Internet
OUR INTERNET, OUR CHOICE, SO...
Ages 7-11

Choose to be aware

Make sure you know the rules about how to behave and stay safe on the sites, games and apps you like to use. Look out for buttons that let you block, mute and report other users who aren't behaving and always ask for help if there is something you are not sure about.

Choose to make sensible choices online

Always keep your personal information safe and any personal information belonging to your friends and family. Check with an adult before signing up to a new game or online service and before downloading a new app or game .

Choose to ask if it's okay

Always think about how your online actions might make others feel. Be a respectful friend online and remember to ask for permission before sharing something about someone else. This could include a picture, video or piece of their personal information like where they live or their full name. Take a look at our Safer Internet Day film to see what other young people think about asking for consent online.

Choose to be a role model

Always be kind to others online and support your friends if they are having a difficult time. You can help your friends by showing them how to block and report in games and apps or by going to talk to a trusted adult with them.

Choose to ask for help

If you are ever unsure about something you see online, or anything makes you feel worried, upset or confused then ask a trusted adult for some help and advice.
Ages 11-18
Choose to ask for consent

Always ask others before sharing something about them. If they say no, we need to respect their choice and be a good friend. This should include checking before posting a selfie of you and your friend or before adding friends into group chats where they might be people they don't know. Remember that things which we might think are okay or funny might actually worry or upset someone else.

Choose to be supportive and positive

You can inspire and support others by what you do and post online. If you see someone having a hard time online, offer them support and report posts or accounts that might be upsetting or offensive.

Choose to be in control

Take the time to look at the privacy settings of your favourite accounts. They can help you take control over the information and posts that you are sharing and ensure that you are happy with what information people can see about you online.

Choose to find out more

Be aware of how your data is being stored and used by the apps on your device. Check the terms and conditions before signing up to a new app and make sure you are happy with your current access rights for each app. Remember you can change these at any time by going into the settings of your device or the app itself and many services will still work even if you choose not to grant all of the access rights it asks for.