More and More a Talk by Roy Waight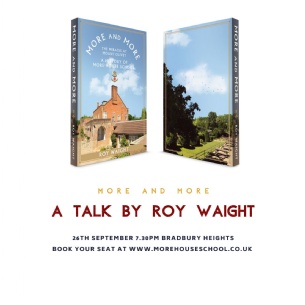 7.30pm Thursday 26th September
A not to be missed evening to hear Roy Waight, celebrated local historian and author of More and More, talk about his research in greater detail.
Not many people seem to know the extraordinary story of Reginald Gard'ner, buried in Farnham Cemetery who, as Brother Joseph, founded a religious order...
When Roy Waight agreed to write More and More, the history of More House School, not even he was prepared for the eccentric origins of Brother Joseph and how one of the most successful special needs schools in the U.K. came to be.
Come and enjoy a relaxing evening, listening to the unheard details, twists and turns of this epic story.
Admission is free with complimentary refreshments and nibbles.