MHS Jazz in the Cellar Bar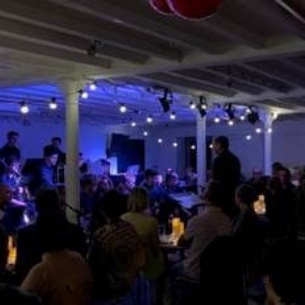 Phenomenal concert at Farnham Maltings
Last night's joint concert with Farnham Music & Drama in the Cellar Bar was absolutely phenomenal.
Mr Place believes it was the best performance MHS Jazz Band has ever delivered!
The evening had a great atmosphere from start to finish and thanks must go to Tracy Rashleigh for her expert mood lighting and table arrangements which added so much to the ambience.
As many of you know, we have now had to wave a fond farewell to a number of our more experienced players, four of whom are going on to study Music at university. This final concert with last year's incredible line-up provided us one last hurrah, while at the same time raising money for three great causes: Phyllis Tuckwell hospice, the FMD Baritone Sax Fund, and the MHS Steve Forster Drum Studio.
Both bands played exciting and varied sets including instrumentals and vocal numbers. At the end of the evening they managed to squeeze both bands onto the stage to form Farnham Big, BIG Band which played an electric performance of Josh Daniels' 'Have You Seen Them Cakes?' to rapturous applause.
A guess at the total number of musicians on stage for this grand finale, must have been in the region of 40! It really was fantastic to see pupils from many different schools in and around Farnham joining together to make great music.
If you see any of the following boys in the coming days, please do offer your congratulations as they absolutely did MHS proud yet again:
Aaron Cody, Alex Read, Alex Turner, Angus Mellstrom, Ben Wigmore, Ed Choate, Eddie Bruce, Kurt Hill, Matt Bond, Uday Pal Trabelsi
In addition to a great performance yesterday, two band members received the exciting news that they had passed their auditions with flying colours, and had been given a seat in the NYJO Academy Band (the National Youth Jazz Orchestra's second band) this year. They will be joining Henry Hanssen to make a total of three MHS students now in this prestigious ensemble:
Ed Choate on Saxophone
Harry Fuller (now ex pupil) on Bass Guitar and String Bass
So double congratulations to the amazingly talented Ed Choate when you see him!!!
Huge thanks to all staff involved or who managed to come and support in any way.